Good Omens: The Nice and Accurate Prophecies of Agnes Nutter, Witch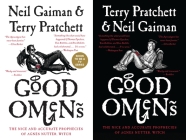 Good Omens: The Nice and Accurate Prophecies of Agnes Nutter, Witch (Paperback)
Description
---
The world will end on Saturday. Next Saturday. Just before dinner, according to The Nice and Accurate Prophecies of Agnes Nutter, Witch, the world's only completely accurate book of prophecies written in 1655. The armies of Good and Evil are amassing and everything appears to be going according to Divine Plan. Except that a somewhat fussy angel and a fast-living demon are not actually looking forward to the coming Rapture. And someone seems to have misplaced the Antichrist.
Put New York Times bestselling authors Neil Gaiman and Terry Pratchett together . . . and all Hell breaks loose.
About the Author
---
Neil Gaiman has written award-winning books for children and adults, including the Newbery Medal-winning novel The Graveyard Book and Coraline, Stardust, and Odd and the Frost Giants. His picture books include Instructions and Blueberry Girl, illustrated by Charles Vess; The Wolves in the Walls, The Day I Swapped My Dad for Two Goldfish, and Crazy Hair, illustrated by Dave McKean; and The Dangerous Alphabet, illustrated by Gris Grimly. A baby giant panda once sat on his lap and ate bamboo in Chengdu, China.
Praise for Good Omens: The Nice and Accurate Prophecies of Agnes Nutter, Witch…
---
"The Apocalypse has never been funnier."
-Clive Barker

"Hilariously naughty."
-Kirkus Reviews

"Wacky and irreverent."
-Booklist

"Fiendishly funny."
-New Orleans Times-Picayune

"From beginning to end, GOOD OMENS is side-splittingly funny . . . a ripping good time."
-Rave Reviews

"If you've never read [GOOD OMENS], don't miss it now. Grade: A."
-Rocky Mountain News

"It could be called The Hitchhiker's Guide to Armargeddon."
-Palm Beach Post

"Reads like the Book of Revelation, rewritten by Monty Python."
-San Francisco Chronicle

"[L]ittle asides, quirky observations, simple puns and parody eventually add up to snorts, chortles and outright laughs."
-San Diego Union-Tribune

"What's so funny about Armageddon? More than you'd think . . . GOOD OMENS has arrived just in time."
-Detroit Free Press

"Full-bore contemporary lunacy. A steamroller of silliness that made me giggle out loud."
-San Diego Union-Tribune

"A direct descendant of The Hitchhiker's Guide to the Galaxy."
-New York Times

"An utter delight—fresh, exciting, uproariously funny."
-Poul Anderson

"Outrageous . . . read it for a riotous good laugh!"
-Orlando Sentinel

"I whooped . . . I laughed . . . I was in near hysterics.:
-New York Review of Science Fiction

"A slapstick Apocalypse, a grinning grimoire, a comic Necronomicon, a hitchhiker's guide to the netherworld."
-James Morrow, author of Only Begotten Daughter

"One Hell of a funny book."
-Gene Wolfe

"Hilarious!"
-Locus

"Huge fun."
-Sunday Express (London)

"Irreverently funny and unexpectedly wise . . . Highly recommended."
-Library Journal

"Something like what would have happened if Thomas Pynchon, Tom Robbins and Don DeLillo had collaborated."
-Washington Post