A Chair for Always (Spanish edition): Un sillon para siempre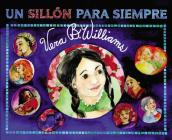 A Chair for Always (Spanish edition): Un sillon para siempre (Hardcover)
Special Order - Subject to Availability
Description
---
Un libro que acompaña el Libro de Honor Caldecott Un sillón para mi mamá
Hay ciertas cosas que Rosa sabe. Sabe que se muere de ganas de conocer a su primito, que está por nacer en cualquier instante en el piso de arriba. Sabe que crecerá y se mudará a otro lugar y quizá asista a la universidad y hasta llegue a ser la presidenta de los Estados Unidos. Y sabe que ese sillón—ese maravilloso, hermoso y querido sillón—el sillón de su mamá, siempre estará allí.
Siempre.
Así es.
Forrado de terciopelo y salpicado de rosas, listo para quién sabe qué aventura nueva . . .
About the Author
---
Vera B. Williams is the award-winning creator of many books for children, including "More, More, More," Said the Baby: Three Love Stories and Amber Was Brave, Essie Was Smart. She lives in New York City.