The Lost Beatles Photographs: The Bob Bonis Archive, 1964-1966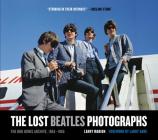 The Lost Beatles Photographs: The Bob Bonis Archive, 1964-1966 (Hardcover)
Usually Ships in 1-5 days
Description
---
An intimate, revealing look at the legendary band, documented in a series of personal, never-before-seen photographs taken during The Beatles' three U.S. tours—the largest single trove of such important unknown rock photographs ever uncovered
In the early 1960s, four working-class lads from Liverpool invaded America, igniting a cultural revolution that would transform a generation and change the world. During that time, few were closer to The Beatles than Bob Bonis, the tour manager for all three U.S. tours, 1964, 1965, and 1966. While on the road with the Fab Four, Bonis, a passionate amateur photographer with a keen eye, an innate sense of composition, and a deep love for his subjects, snapped some nine hundred photographs of the band—a remarkable collection that until now has only been known to family and close friends.
Unearthed after forty-five years, the photos that comprise The Lost Beatles Photographs form a groundbreaking portrait of the most iconic band of the twentieth century at a pivotal time in their career, conquering America. Bonis's photos offer fans unprecedented, behind-the-scenes access to The Beatles during their breakthrough moments on the world stage, from rehearsing backstage to stellar performances in concert. Here are John Lennon, Paul McCartney, George Harrison, and Ringo Starr in casual moments, in rehearsal, in concert, in dressing rooms, on vacation, at press events, on the road. Funny, surprising, provocative, beautiful, these photos recall an unforgettable period in history and offer a fresh look at these legends at the beginning of their fame.
Whether you're a devoted aficionado or just discovering the Fab Four, The Lost Beatles Photographs is a remarkable addition to Beatle lore and a must-have for every fan.
About the Author
---
Larry Marion is recognized as one of the world's leading authorities on rock and music memorabilia, especially concert posters. He has worked with many of the leading auction houses, set several world-record prices for Beatles memorabilia, and written and designed sixteen catalogs of music-related memorabilia. Larry is one of the owners, founders, and directors of NotFadeAwayGallery.com, which exclusively represents the photography of Bob Bonis. He lives in Brooklyn, New York, collects memorabilia related to stand-up comedy, and can be contacted at larry@nfagallery.com.
Praise for The Lost Beatles Photographs: The Bob Bonis Archive, 1964-1966…
---
"Striking in their intimacy."
-Rolling Stone