Sami And The Time Of The Troubles (Paperback)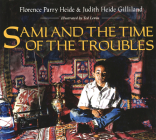 $7.99

Backordered - Please call the store for availability
Description
---
A ten-year-old Lebanese boy balances his life in a war-torn city.
About the Author
---
Judith Heide Gilliland lived in Beirut for several years, and witnessed the way of life described in Sami. She and her husband Kim have two sons, Win and Donny. 
Ted Lewin grew up in Buffalo, New York, with two brothers, one sister, two parents, a lion, an iguana, and a chimpanzee. He became interested in art as a young boy when he would draw his brothers' world of wrestling. Ted later worked as a professional wrestler to finance his studies at the Pratt Institute of Fine Arts, where he met his wife, Betsy Lewin, also a children's book writer and illustrator. He and his wife travel around the world to research the settings for their books. While working on SACRED RIVER, which he both wrote and illustrated, Ted joined thousands of Hindus on their pilgrimage to the banks of the Ganges River in Benares, India. Ted now lives and works in the brownstone he shares with his wife and their two cats in Brooklyn, New York. For more information visit www.tedlewin.com.
Florence Parry Heide is the author of over seventy books for children. She is the mother of five, the grandmother of seven. She has teamed up with her daughter, Judith, to write Sami and the Time of the Troubles. 
Praise For…
---
"Lewin's watercolor illustrations capture contemporary Beirut with stunning clarity and drama . . . Unforgettable." School Library Journal, Starred —