Zen Page-A-Day Calendar 2018 (Calendar)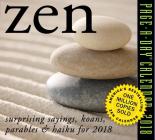 This book is not available online.
Not on our shelves. Out of Print.
Description
---
A moment of pause in the midst of business as usual. A breath of calm to counteract the bustle of the everyday. A nugget of wisdom for your desktop. This calendar features hundreds of quotes, koans, parables, and poems. Find peace and wisdom in the words of philosophers like Osho: Whatever you feel, you become. It is your responsibility. Draw inspiration from writers like Anaïs Nin: When you possess light within, you see it externally. Learn from Zen masters like the Buddha himself: Choose the path that leads to wisdom.
About the Author
---
David Schiller is an author of eclectic interests whose books include The Little Zen Companion, The Little Book of Prayers, and Guitars, among others. His books and calendars have more than 2 million copies in print. He lives in New York.