African Acrostics: A Word in Edgeways (Paperback)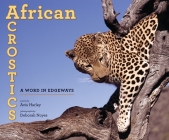 $7.99
Not on our shelves. Usually ships in 2-5 days
Description
---
"This belongs in every collection — for the poetry, for the photographs, for the information." — Kirkus Reviews (starred review)

Illustrated with gorgeous full-color photographs, this collection sends poetry buffs and animal lovers on an armchair safari they'll never forget. Spot the elusive double acrostic (in which the first and last letters of each line spell a message), the cross acrostic (in which the message is read diagonally), and the multiple acrostic (you have to see it to believe it)— not to mention lions, zebras, crocodiles, hippos, and elephants. Oh, my! Back matter includes information about acrostics, nature notes, and a photographer's note.
About the Author
---
Avis Harley has written several books of poetry for children, including The Monarch's Progress: Poems with Wings. Her work has appeared in numerous collections, including Paul B. Janeczko's A Kick in the Head. She lives in Vancouver, Canada. 

Deborah Noyes is the author of Hana in the Time of the Tulips, illustrated by Bagram Ibatoulline, and Red Butterfly,illustrated by Sophie Blackall, as well as the editor of Gothic!, The Restless Dead, and A Cabinet of Curiosities. A former zookeeper, she also wrote and illustrated One Kingdom: Our Lives with Animals. She lives in Somerville, Massachusetts.
Praise For…
---
Harley's poetry consists of carefully crafted descriptive word imagery that is right on target…full-page, full-color photos of the animals are perfect companions to the facing selections.
—School Library Journal (starred review)

Noyes's photographs perfectly encapsulate the poems, the two creating a harmonious whole that is more than the sum of its parts…This belongs in every collection—for the poetry, for the photographs, for the information.
—Kirkus Reviews (starred review)

This dramatic picture book will draw readers with its mix of short poems and clear color photos of wild animals in the game parks of Namibia.
—Booklist

Noyes's photographs, taken mostly in Namibia, are creatively composed and capture each animal's unique qualities. Together, poetry and photography make for a superb collection.
—The Horn Book

Crocodile, hippo, kudu, and other creatures in the stunning photos gaze at readers, who can learn more about writing acrostics and about the featured animals in notes at the end.
—School Library Journal

Young wordsmiths will itch to try their hands at the verse form after reading this.
—Bulletin of the Center for Children's Books

Accompanied by bold (and sometimes very entertaining) photographs by the multi-talented Deborah Noyes, the playful pieces on these pages more than ably capture their subjects, in wonderful language that make them a true cut above the most poems I've read in this form. I predict that teachers will go ga-ga for this one.
—Shelftalker blog

Animals acting as such, not as charming book characters. The last three lines about a hunting lioness are "Even / Sunlight/ Shivers." There are pages at the back to explain more about acrostics, animals and the photographs. A winning trifecta. ne.
—Chicago Tribune

A nice "multi-genre" picture book of poetry and lots of information. One of the many fun acrostic poems is "Hornbill's Hot Day." And what child would not delight in seeing the photograph of a hornbill?
—Booklights (PBS Parents blog)

Magnificent photography depicting a variety of African creatures and some skillful poetic imagery combine with the wordplay mentioned in the title to make this book intriguing.
—Journal Inquirer

Clear close-up pictures by Deborah Noyes of African animals dominate each page. The poems about each animal are in crisp and larger-than-usual print font. The pages are, therefore, strikingly simple and uncluttered.
—Canadian Review of Materials

As well as being a grrreat read, this book offers a ready model for young poets and photographers eager to create their own tributes to the natural world.
—Washington Parent

Readers of any age could enjoy the awesome pictures and creative poems.
—Winston-Salem Journal

If you're planning to teach your students how to write acrostic poetry, then this is a book you HAVE to have in order to lift the level of their acrostic poetry writing. Using <I>African Acrostics</I> as a touchstone text will challenge all of the budding poets in your class to stretch themselves when they craft acrostic poetry.
—Two Writing Teachers blog