Olive and the Big Secret (Hardcover)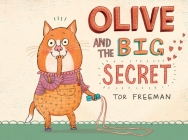 $15.99
Not on our shelves. Usually ships in 3-5 business days.
Description
---
Olive learns the hard way that keeping secrets is tough, and telling them can make for a whole lot of trouble!

When Molly shares a secret with Olive, the urge to tell is just too great! Olive tells Joe who tells Matt who tells Lola. But Lola is best friends with Molly. Uh-oh, the secret is out, and Olive is in for it!
About the Author
---
Tor Freeman has been writing and illustrating books for children for more than ten years. She lives in West London.
Praise For…
---
Young children will be riveted by this masterfully paced, puppy-love drama, played out with an array of quirky animals in contemporary comic style. The measure of individuality is each character's ability to keep a secret. There is the gossipmonger, the one who does not care, the one who tries to keep a secret, and the one who doesn't... A delightful, surefire conversation starter on the do's and don'ts of secrets among friends.
—School Library Journal (starred review)

Freeman's brisk storytelling and comically expressive cast of anthropomorphic animals make an all-too-familiar situation feel fresh...The stagelike composition and the characters' penchant for theatrical gestures keep the mood as light as a French farce while still conveying sympathy for Molly—and empathy for the tough task of being a secret keeper.
—Publishers Weekly (starred review)

The mixed media illustrations sport a modern palette is vibrant and appealing. Characters have large, expressive anthropomorphized faces. Keeping backgrounds to a minimum, Freeman lets her characters run the show.
—100 Scope Notes