The Most Wonderful Thing in The World (Hardcover)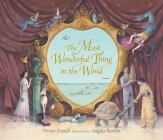 $18.99

Special Order - Subject to availability
Description
---
Stunning illustrations enhance a deft retelling of this classic tale of a king, a queen, a princess, legions of suitors, and a treasure hidden in plain sight.

Once upon a time, a king and a queen promise to marry their daughter to the young man who can show them the most wonderful thing in the world. Suitors arrive at the palace, one after the other, with elaborate gifts of jewels, inventions, and even mythical beasts, but nothing feels quite right to the overwhelmed majesties. It is only when a shy young man, who isn't a suitor at all, steps forward that the king and queen finally understand what the most wonderful thing in the world actually is. Vivian French's touching fairy tale is made all the more enchanting by the many subtle surprises included in Angela Barrett's exquisite illustrations.
About the Author
---
Vivian French writes for children of all ages. She is much loved for her comic fiction in the Tales from the Five Kingdoms series and her picture books, including Growing Frogs, T. Rex, and Caterpillar, Caterpillar, but her heart lies in retelling traditional stories and writing fairy tales of her own. Vivian French lives in Scotland.

Angela Barrett is the award-winning illustrator of The Night Fairy and more than two dozen other books for children, including classic tales, fairy tales, story collections, and picture books. She lives in London.
Praise For…
---
French is a skilled storyteller, and with the help of Angela Barrett's illustrations invoking steampunk, Edwardian style and a gilded Venice, she reminds us how fresh a fairy tale can feel in the right hands.
—The New York Times

Barrett's watercolor illustrations are full of exquisite color and detail, referencing not only Venetian architectural monuments, but Martha Graham dance and the Tin Man among other cultural milestones. Lightly wraps the love of family as the center of life in a silken gown of word and image, with a playful undercurrent of both whimsy and irony.
—Kirkus Reviews (starred review)

Barrett (The Night Fairy) conjures a magical mood, picturing fantasies and modern marvels in jewel-like watercolor vignettes, and a peaceful ambience reigns as Lucia and Salvatore elegantly solve Angelo's puzzle. A mellifluous fairy tale, drenched in Edwardian splendor.
—Publishers Weekly (starred review)

Children will enjoy the well-told story for its own sake and the beautifully composed pictures for their intricacy and their sometimes surprising details. Based on a story Barrett loved in childhood, this tale is retold and illustrated with considerable grace.
—Booklist (starred review)

Barrett's refined watercolor illustrations evoke picturesque Italian vistas and Edwardian-era fashion, and the softening of the edges of the figures and backgrounds creates a dreamy mood that complements the romantic tale; the intricate detailing of the scenes and the ornateness of the frames that surround both text and illustrations makes this best enjoyed at close range. This is a polished gem, to be savored and sighed over by fairy-tale lovers of all ages.
—Bulletin of the Center for Children's Books (starred review)

Barrett's watercolor drawings have the requisite detail to make this a story to pore over, and circulation among the princess- and fairy tale–loving crowd is guaranteed. A lovely choice for large collections.
—School Library Journal

Elegant.
—The Wall Street Journal

The beautiful, detailed, and often humorous illustrations insure this story will be a great read aloud.
—School Library Connection

Lavish illustrations adorn this delightful fairy tale rich with messages of love, honesty, and what is most important in life.
—Books to Borrow...Books to Buy (column from Kendal A. Rautzhan)