And the Bullfrogs Sing: A Life Cycle Begins (Paperback)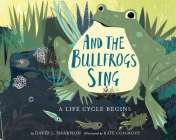 $8.99

On Our Shelves Now. Click on title for location specific availability.
Description
---
Rumm . . . rumm . . . rumm. A male bullfrog sings. A female bullfrog likes his song. And a life cycle begins.

Eggs hatch and become tadpoles. The tadpoles nibble plants. They grow legs and start to breathe. Now they are little bullfrogs. They eat flies, fish, and spiders. In the winter they hibernate. And after three years, they are adult bullfrogs. Rumm . . . rumm . . . rumm.

Lyrical prose and elegant art depict the life cycle of a bullfrog in this nonfiction picture book by an award-winning poet-biologist.

A Bank Street Best Book of the Year
About the Author
---
David L. Harrison is a writer of both poetry and prose for children, and is a biologist as well. His books have received state awards in Kansas, Missouri, Michigan, Arizona, South Dakota, Indiana, Texas, Kentucky, and Virginia. Awards also include IRA/CBC Children's Choices, NCTE Notable Poetry Books, and Bank Street College Best Books. The David Harrison Elementary School in Springfield, Missouri, is named in his honor. David lives in Springfield, Missouri.

Kate Cosgrove has received many awards and honors for her artwork, including a 2018 Highlights Foundation Scholarship. And the Bullfrogs Sing is Kate's debut as a picture book illustrator. She lives in Lansing, Michigan.
Praise For…
---
"Harrison uses simple, short sentences to describe bullfrog courtship and development . . . The text lends itself well to reading aloud, with opportunities for sound effects, and the illustrations show well from a distance. A useful addition to a nature-themed storytime."—Kirkus Reviews

"In Cosgrove's illustrations, the wide-eyed frogs leap, swim, rest, and sing among blocks of color filled with energetic scribbles that outline the many plants of the wetland environments. Whether full-page illustrations or double-page spreads, the art is full of movement. A page of back matter gives more information about bullfrogs and includes a brief bibliography."  —The Horn Book

"Cosgrove's full-spread illustrations situate cheerful, bulbous bullfrogs at various ages and stages in layered textures shaded mostly in green, blue, and lavender. Endnotes offer facts and resource links, capping this effective conjuring of the bullfrog's life and aqueous world." —Publishers Weekly

"Cosgrove's visuals compliment Harrison's text; the pictures and words flow together smoothly and offer an attractive presentation. . . . A storytime selection, suitable for the juvenile nonfiction picture book collection."  —School Library Journal