Darkdawn: Book Three of the Nevernight Chronicle (CD-Audio)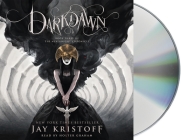 $71.99
Special Order - Subject to availability
Other Books in Series
This is book number 3 in the The Nevernight Chronicle series.
Description
---
The epic conclusion to the internationally bestselling Nevernight Chronicle series from New York Times bestselling author Jay Kristoff.

The greatest games in Godsgrave's history have ended with the most audacious murders in the history of the Itreyan Republic.

Mia Corvere, gladiatii, escaped slave and infamous assassin, is on the run. Pursued by Blades of the Red Church and soldiers of the Luminatii legion, she may never escape the City of Bridges and Bones alive. Her mentor Mercurio is now in the clutches of her enemies. Her own family wishes her dead. And her nemesis, Consul Julius Scaeva, stands but a breath from total dominance over the Republic.

But beneath the city, a dark secret awaits. Together with her lover Ashlinn, brother Jonnen and a mysterious benefactor returned from beyond the veil of death, she must undertake a perilous journey across the Republic, seeking the final answer to the riddle of her life. Truedark approaches. Night is falling on the Republic for perhaps the final time.

Can Mia survive in a world where even daylight must die?

New York Times and internationally bestselling author Jay Kristoff's writing has been praised by critics and readers alike and has won many awards, including four Aurealis Awards, an ABIA, and David Gemmell Morningstar and Legend awards.
About the Author
---
JAY KRISTOFF is the
New York Times
and internationally bestselling author of The Lotus War, The Illuminae Files and The Nevernight Chronicle. He is the winner of four Aurealis Awards, an ABIA, a nominee for the Locus award, a nominee for the David Gemmell Morningstar and Legend awards, named multiple times in the
Kirkus
and Amazon Best Teen Books list and published in over thirty countries, most of which he has never visited. He is as surprised about all of this as you are. He is 6'7 and has approximately 12,015 days to live. He abides in Melbourne with his secret agent kung-fu assassin wife, and the world's laziest Jack Russell. He does not believe in happy endings.
Holter Graham, winner of AudioFile's 2008 Best Voice in Science Fiction & Fantasy for Sherrilyn Kenyon's Acheron, is a stage, television, and screen actor. He has recorded numerous audiobooks, including much of Sherrilyn Kenyon's bestselling Dark-Hunter series. The winner of multiple AudioFile Earphones Awards, he has also read works by Scott Turow, Dean Koontz, C. J. Box, and Stephen Frey.

 His film credits include Fly Away Home, Maximum Overdrive, Hairspray, and The Diversion, a short film which he acted in and produced. On television, he has appeared in Army Wives, Damages, As The World Turns, Rescue Me, Law & Order and New York Undercover. He received a B.A. from Skidmore College and an M.F.A. from Vermont College.
Praise For…
---
The USA Today bestseller!

"Kristoff effortlessly draws together multiple threads from the first two volumes and packs in plenty of wickedly sharp, beautifully choreographed, and gloriously bloody fight scenes while offering humor, heartbreak, and a few jaw-dropping surprises....A poignant and exhilarating finale to a superb fantasy series." —Publishers Weekly, starred review on Darkdawn

"The stakes for our heroine feel higher than ever....Fans will love the fast-paced, epic conclusion to this dark and bloody tale." —Kirkus Reviews

"The twists and turns start early in this volume, and readers expecting wry humor and high body counts will not be disappointed....Kristoff's characters are fully formed and jump off the page. The world building, borrowing its structure from Italian political history, remains as intricate and fascinating as it was in Nevernight (2016)." —Booklist

"Kristoff's action sequences are well done [and] humorous footnotes provide wry asides and additional info about this well-imagined realm. Readers who enjoyed the first two books will not be disappointed by this dark, addictive story." —Library Journal

"Launching the Nevernight fantasy series, Kristoff (the Lotus War trilogy) creates a splendid world of corruption and violence. Kristoff portrays a world as rife with villains and treachery as the ancient Italian civilizations it echoes. Absorbing in its complexity and bold in its bloodiness, this beginning promises (and delivers) equal shares of beauty and decay." —Publishers Weekly, starred review on Nevernight

"A sensuous, shades-of-moral-gray world; a compelling, passionate heroine; a high-stakes quest for revenge—this is a fantasy fans won't be able to put down."—Kirkus Reviews on Nevernight

""Murder, magic, sex, and humor—the first installment in Kristoff's new fantasy series is off to a rollicking start... Kristoff has created a rich, vibrant world for readers, borrowing heavily from historical Italian political structures, which provide a base of stability and familiarity to the new creations. Footnotes accompany the story,...embellishing and further developing the world, and providing a welcome and often biting wit."—Booklist on Nevernight

"The world-building is delightfully detailed, its baroque flourishes supplied by sarcastic footnotes, but we are drawn through the narrative by Mia's triple quest: to rescue her family members, to avenge her father's death and to survive her education at the church, where the ultimate test is to avoid being killed by the training." -The Daily Mail on Nevernight

"Assassins, magic, strange creatures are all pluses for me. But my favorite thing about this book is the voice...I adore well-done omniscient narrators with snark and a slight bit of disdain for either the reader or the main character."—Book Riot on Nevernight

"Kristoff's bold writing style...joins lyrical high fantasy with f-bombs aplenty, Pratchett-like humor and unflinching descriptions of violence."—SciFiNow on Nevernight

"Harry Potter meets The Lies of Locke Lamora"—USA Today on Nevernight