Eli's Promise: A Novel (CD-Audio)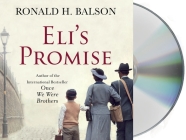 $50.99

Special Order - Subject to availability
Description
---
"National Jewish Book Award winner Ron Balson returns triumphantly with Eli's Promise, a captivating saga of the Holocaust and its aftermath spanning decades and continents. Readers will not be able to put this book down, but will turn the pages compulsively with heart in throat, eager to learn the fate of the Rosen family. Balson's meticulous historical detail, vivid prose and unforgettable characters further solidify his place among the most esteemed writers of historical fiction today."
-Pam Jenoff, New York Times Bestselling Author of The Lost Girls of Paris

A "fixer" in a Polish town during World War II, his betrayal of a Jewish family, and a search for justice 25 years later—by the winner of the National Jewish Book Award.

Eli's Promise is a masterful work of historical fiction spanning three eras—Nazi-occupied Poland, the American Zone of post-war Germany, and Chicago at the height of the Vietnam War. Award-winning author Ronald H. Balson explores the human cost of war, the mixed blessings of survival, and the enduring strength of family bonds.

1939: Eli Rosen lives with his wife Esther and their young son in the Polish town of Lublin, where his family owns a construction company. As a consequence of the Nazi occupation, Eli's company is Aryanized, appropriated and transferred to Maximilian Poleski—an unprincipled profiteer who peddles favors to Lublin's subjugated residents. An uneasy alliance is formed; Poleski will keep the Rosen family safe if Eli will manage the business. Will Poleski honor his promise or will their relationship end in betrayal and tragedy?

1946: Eli resides with his son in a displaced persons camp in Allied-occupied Germany hoping for a visa to America. His wife has been missing since the war. One man is sneaking around the camps selling illegal visas; might he know what has happened to her?

1965: Eli rents a room in Albany Park, Chicago. He is on a mission. With patience, cunning, and relentless focus, he navigates unfamiliar streets and dangerous political backrooms, searching for the truth. Powerful and emotional, Ronald H. Balson's Eli's Promise is a rich, rewarding novel of World War II and a husband's quest for justice.

A Macmillan Audio production from St. Martin's Press
About the Author
---
RONALD H. BALSON is an attorney, professor, and writer. His novel
The Girl From Berlin
won the National Jewish Book Award and was the Illinois Reading Council's adult fiction selection for their
Illinois Reads
program. He is also the author of
Defending Britta Stein, Eli's Promise, Karolina's Twins
,
The Trust, Saving Sophie
, and the international bestseller
Once We Were Brothers
. He has appeared on many television and radio programs and has lectured nationally and internationally on his writing. He lives in Chicago.
Fred Berman is a five-time winner of the AudioFile Earphone Award for Audiobook Narration and the recipient of the 2013 Audie Award for narration in Spy the Lie. He has read a number of audiobooks for young listeners, including Judy Blume's Soupy Saturdays with The Pain & The Great One and Andrew Clements's The Last Holiday Concert. He has also narrated the audiobooks for Robert Kirkman's popular series, The Walking Dead.

Berman is an accomplished actor of both the stage and screen as well, performing on Broadway as Timon in The Lion King and off-Broadway in Hamlet, Twelfth Night, and King Lear. On television, Berman has had roles on NBC's hit series Smash as well as All My Children and Law and Order. He lives in New York City.