The Indian Slow Cooker: 70 Healthy, Easy, Authentic Recipes (Paperback)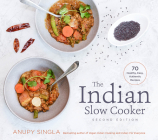 $19.95

On Our Shelves Now. Click on title for location specific availability.
Description
---
This updated edition of Anupy Singla's bestselling debut cookbook includes 15 additional Indian recipes developed specifically for the slow cooker. Since its original publication in 2010, The Indian Slow Cooker has become a touchstone primer for everyone seeking an accessible entry point to cooking authentic, healthy Indian fare at home. Taking full advantage of the ease and convenience of the slow cooker, these recipes are simpler than their traditional counterparts and healthier than restaurant favorites, as they don't require extra oil and fat. Singla's "Indian Spices 101" chapter introduces readers to the mainstay spices of an Indian kitchen, as well as how to store, prepare, and combine them in different ways. Among these 65 recipes are all the classics--specialties like dal, palak paneer, and aloo gobi--and dishes like butter chicken, keema, and much more. The result is a terrific introduction to healthful, flavorful Indian food made using the simplicity and convenience of the slow cooker.
About the Author
---
ANUPY SINGLA is the author of the bestselling titles The Indian Slow Cooker (Agate Surrey, 2010), Vegan Indian Cooking (Agate Surrey, 2012), and Indian for Everyone (Agate Surrey, 2014), all of which have been among the top-selling Indian cookbooks since their release. She is the founder and CEO of Indian As Apple Pie, a company that creates and sells custom spice blends as well as unique home goods. Singla blogs at Indian As Apple Pie, and her writing has been featured in many print and online outlets. She formerly worked as an on-air TV reporter and anchor for CLTV News, the cable arm of Tribune Media and sister station to Chicago's WGN-TV, and for Bloomberg TV. Her books have been praised in Better Homes & Gardens, Good Housekeeping, the Wall Street Journal, the Chicago Tribune, the Chicago Sun-Times, and Entrepreneur magazine. Singla lives with her husband and two daughters in Chicago, Illinois.