Bad Machinery Vol. 8: The Case of the Modern Men (Paperback)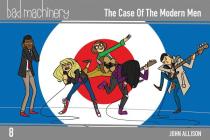 $12.99

Not on our shelves. Usually ships in 2-5 days
Other Books in Series
This is book number 8 in the Bad Machinery series.
Description
---
"A delightfully quirky series whose eccentric charms haven't faltered." - KIRKUS

From the bestselling author of Giant Days comes the latest pocket-sized volume in his beloved Bad Machinery series!
It's that classic feud: mods versus rockers! As the boys get caught up in the allure of mod culture (the scooters! the hair! the fashion!), Shauna is testing her mettle as the queen of metal. But when the new King of the Mods is crowned, he sparks an all-out war between the musical factions, with the mystery team caught in the mix!
The Case of the Modern Men
, the eighth book in John Allison's award-winning Bad Machinery series, finds our intrepid mystery-solvers at an age-old crossroads. How does a person become cool? Why can't we all just get along? And could that shiny new scooter be... cursed?
AWARDS & RECOGNITION FOR THE SERIES
Eisner Award nomination, Best Publication for Teens (2017)
Dwayne McDuffie Kids' Comics Award shortlist (2017)
YALSA Great Graphic Novels for Teens (2017)
Texas Library Association's Maverick Graphic Novel list (2015)
Cybils Awards finalist—Graphic Novels: Young Adult (2013)
Publishers Weekly Best Children's Books of 2013
British Comic Award - Best Comic (2012)
Parents' Choice Awards, Fiction, Recommended Seal (2016)
About the Author
---
Born in a hidden village deep within the British Alps, John Allison came into this world a respectable baby with style and taste. Having been exposed to American comics at an early age, he spent decades honing his keen mind and his massive body in order to burn out this colonial cultural infection. One of the longest continuously publishing independent web-based cartoonists, John has plied his trade since the late nineties moving from Bobbins to Scary Go Round to Bad Machinery, developing the deeply weird world of Tackleford long after many of his fellow artists were ground into dust and bones by Time Itself. He has only once shed a single tear, but you only meet Sergio Aragon's for the first time once. John resides in Letchworth Garden City, England, and is known to his fellow villagers only as He Who Has Conquered.