Textos «Ilegibles»: Reflexiones Sobre La Representación de la Comedia Áurea (Hispanic Studies: Culture and Ideas #79) (Paperback)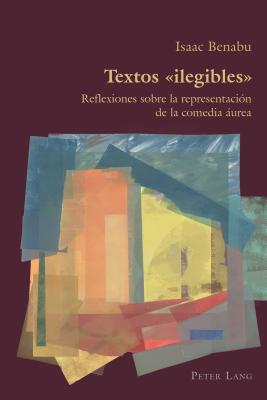 Textos «Ilegibles»: Reflexiones Sobre La Representación de la Comedia Áurea (Hispanic Studies: Culture and Ideas #79) (Paperback)
This book is not available online.
Other Books in Series
This is book number 79 in the Hispanic Studies: Culture and Ideas series.
Textos ilegibles , entre comillas; porque en gran parte los textos dram ticos se compusieron para ser representados, no para ser le dos. Por supuesto que en primer lugar hay que leer el texto de una obra para enterarse de qu se trata. Sin embargo para su representaci n sobre las tablas hay que recurrir a una lectura especializada, la lectura teatral. Esta aproximaci n requiere que el texto se lea a la inversa, por decirlo as , desde el final, punto donde toda la acci n se resuelve, hacia el principio punto donde nada se sabe. As al preparar un montaje o estudiar la dramaturgia de una obra se hace posible construir tanto el desarrollo de la trama como la caracterizaci n de los personajes.
Este libro aplica esta aproximaci n te rica a una interpretaci n de varias comedias del Siglo de Oro espa ol como ejemplificaci n de la metodolog a empleada.