Respectable Professionals; The Origins of the Liberal Professions in Nineteenth-Century Spain (Hispanic Studies: Culture and Ideas #59) (Paperback)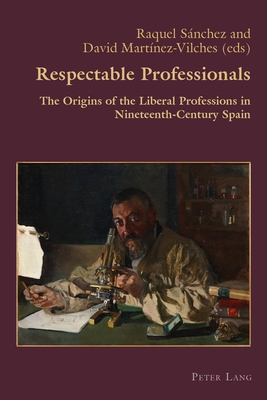 Respectable Professionals; The Origins of the Liberal Professions in Nineteenth-Century Spain (Hispanic Studies: Culture and Ideas #59) (Paperback)
This book is not available online.
Other Books in Series
This is book number 59 in the Hispanic Studies: Culture and Ideas series.
Respectable Professionals contains the contributions of fifteen experts about the birth of new professions and the modernization of working practices in old trades in nineteenth-century Spain. The authors consider that professionalism and respectability were the most relevant elements which structured the bourgeois society in the nineteenth century. The economic changes resulting from the abolition of guilds, the extension of the competences of the State and the liberalization of the economy contributed greatly to the renewal of the labour market. This process took place while some other transformations gave rise to the bourgeois society, such as the urbanization, the updating of the educational system or the organization of professional networks and associations. Starting from the sociology of professions, the book reflects on the historical and sociocultural elements that influenced the development of professional society through different case studies that allow us to compare with other European countries. Nowadays we are living through similar changes in the labour market that should lead us to look back and learn from the challenges faced by professionals in the past.