Exégesis del «Error»: Una Reinterpretación de la Praxis de Escritura En «Libro de la Vida», «Novelas Ejemplares» Y «Desengaños Amorosos» (Hispanic Studies: Culture and Ideas #51) (Paperback)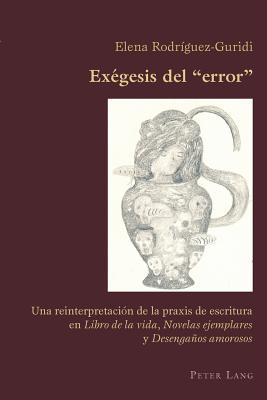 Exégesis del «Error»: Una Reinterpretación de la Praxis de Escritura En «Libro de la Vida», «Novelas Ejemplares» Y «Desengaños Amorosos» (Hispanic Studies: Culture and Ideas #51) (Paperback)
$97.06
Special Order - Subject to availability
(This book is nonreturnable. Nonreturnable books may take up to 3 weeks to ship. All sales final.)
Other Books in Series
This is book number 51 in the Hispanic Studies: Culture and Ideas series.
Este libro constituye una reevaluaci n del peculiar estilo de tres obras producidas durante el Siglo de Oro espa ol, cuyas aparentemente inmotivadas digresiones y contradicciones narrativas han desconcertado a la cr tica: Libro de la vida de Teresa de vila, Novelas ejemplares de Cervantes y Desenga os amorosos de Mar a de Zayas. Este estudio se propone analizar c mo tales inconsistencias y errores se pueden explicar como proyecci n del estado de contradicci n y conflicto que experimenta el individuo del Barroco ante la entrada de un nuevo sistema de producci n mercantilista imposible de conciliar con el antiguo r gimen feudal. Desde esta perspectiva, este trabajo considera que, en esta crisis epistemol gica, la pr ctica literaria constituye un taller de experimentaci n que explora los l mites de la ideolog a y de la identidad a trav's de revelar sus procesos de significaci n.
La autora identifica los procesos que dieron lugar a una nueva epistemolog a al inicio de la era moderna y analiza el modo en que estas obras utilizan la escritura como praxis para hacer frente a la problem tica inherente en los nuevos modos de producci n del mercantilismo. Mediante una pr ctica literaria que deconstruye la producci n de doxa al revelar sus propias contradicciones, el lenguaje de estas obras constituye una revoluci n contra la nueva l gica econ mica de la poca.