Literatura política y política literaria en España: Del Desastre del 98 a Felipe VI (Hispanic Studies: Culture and Ideas #68) (Paperback)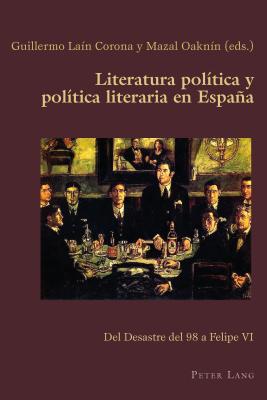 Literatura política y política literaria en España: Del Desastre del 98 a Felipe VI (Hispanic Studies: Culture and Ideas #68) (Paperback)
This book is not available online.
Other Books in Series
This is book number 68 in the Hispanic Studies: Culture and Ideas series.
En el presente volumen se ofrece un estudio de la literatura espa ola del siglo XX y los primeros quince a os del XXI desde la perspectiva de la literatura pol tica (compromiso pol tico en literatura) y de la pol tica literaria (mercado literario, gesti n de la literatura, pol ticas culturales de los gobiernos, etc.). Comenzando con una nutrida introducci n te rica que repasa la historia literaria de Espa a desde el Desastre del 98 a Felipe VI, los autores pasan luego a analizar en detalle diferentes casos. Las pol ticas literarias derivadas de los derechos de autor, la literatura filipina en espa ol, Lorca, Benjam n Jarn's, Aza a, la revista Destino, Arrabal, el grupo La Otra Sentimentalidad y Etxebarria son los variados y fascinantes temas que el lector puede explorar en este libro, que interesar a estudiantes, profesores e investigadores por igual.