The Ambivalence of Imperial Discourse: Cervantes's "La Numancia" within the 'Lost Generation' of Spanish Drama (1570-90) (Hispanic Studies: Culture and Ideas #14) (Paperback)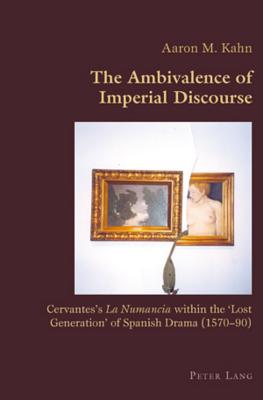 The Ambivalence of Imperial Discourse: Cervantes's "La Numancia" within the 'Lost Generation' of Spanish Drama (1570-90) (Hispanic Studies: Culture and Ideas #14) (Paperback)
This book is not available online.
Other Books in Series
This is book number 14 in the Hispanic Studies: Culture and Ideas series.
This book offers a new reading of Miguel de Cervantes's play La destrucci n de Numancia (c.1583), analysing the work in relation to theories of empire in sixteenth-century Spain, in the context of plays written immediately before the rise in popularity of Lope de Vega and the comedia nueva, and the playwright's innovative use of dramatic techniques in this transitional period of Spanish drama. Dramatic writers have always used the stage as a medium through which they could comment on current events involving politics, religion, philosophy, and society; Cervantes was no exception. His discourse concerning imperial expansion in La Numancia has resulted in many conflicting interpretations of the play's meaning. This book explores the drama's thematic and generic ambiguities, as well as Cervantes's representation and interpretation of the historical record in the creation of his characters and his portrayal of the fall of Numancia in 133 BC to the Roman army of Scipio Aemilianus. Finally, this study addresses the significance of seemingly intentionally unclear discourse in reference to La Numancia and the turbulent political and religious environment of late sixteenth-century Spain.
The Author: Aaron M. Kahn received his D.Phil. in Golden Age Spanish Literature from the University of Oxford. He is currently a lecturer at the University of Sussex.