Performative Bodies, Hybrid Tongues: Race, Gender, Sex and Modernity in Latin America and the Maghreb (Hispanic Studies: Culture and Ideas #33) (Paperback)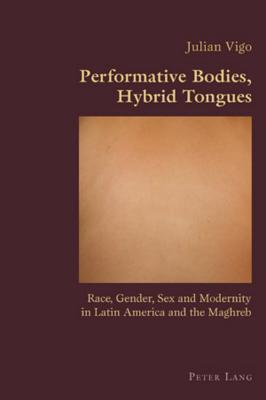 Performative Bodies, Hybrid Tongues: Race, Gender, Sex and Modernity in Latin America and the Maghreb (Hispanic Studies: Culture and Ideas #33) (Paperback)
$148.13
Special Order - Subject to availability
(This book is nonreturnable. Nonreturnable books may take up to 3 weeks to ship. All sales final.)
Other Books in Series
This is book number 33 in the Hispanic Studies: Culture and Ideas series.
This book reconsiders the body in literature and makes a case for visual representation as a physical and gesticulative domain for rethinking the constructions of gender, nationalism and sexuality. Examining literary production from the eleventh century until the present, the author argues that the body in contemporary North Africa and Latin America serves as a physical and symbolic terrain upon which sexual, textual, national, racial and linguistic identities are vectored and through which postcolonial and hegemonic antagonisms of power and identity are resolved.
Rather than embracing third world identity as a residual repository of western thought, colonization and linguistic infusion, the author suggests that the paradigm of cultural identity in the Maghreb and Latin America is best understood through an examination of the emergent corporeal articulations of subjectivity prevalent in these literatures and visual cultures. The text examines the body as a critical landscape through which the various discourses of nationhood, gender and sexuality converge in order to construct a reading of the social that neither amasses subjectivity as singular under the rubric of the third world , nor couches the other within static notions of gendered, sexual or racial identities.