Ancient Coins of India: The Lance Dane Bequest (Hardcover)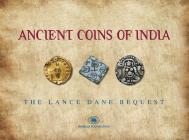 This book is not available online.
Not on our shelves. Out of Print.
Description
---
-An exploration of one of the greatest collections of ancient Indian coins in the world, revealing secrets lost in history Through this book, the Hinduja Foundation provides valuable glimpses into the Lance Dane collection. This remarkable collection brings together 34,907 ancient Indian coins and other rare artifacts, donated to the Foundation by its eponymous owner. This book is part of an ongoing project developing the Hinduja Antiquity Collection. The collection aims to promote the advancement of knowledge and education about India's glorious history and culture, and to become a repository of other such collections, which the Foundation promises to look after, maintain, and exhibit in the years to come. This rare and unique collection of coins goes back three millennia, recording the monetary evolution of a highly developed ancient civilization. Kingdoms and Empires once stretched across India, boasting their own systems of justice and sound economic governance. The Hinduja Foundation are confident that this important collection will, over time, grow and develop into an unparalleled representation of India's ancient history, the significance of which will be acknowledged worldwide.