Alice Cooper @ 75 with Gary Graff
Wednesday, June 21, 2023 - 6:30pm
Schuler Books
Gateway Center
7260 Orchard Lake Road,
West Bloomfield Twp, MI 48322
Experience the extraordinary life of the godfather of shock rock, Detroit born musician Alice Cooper, when award-winning music journalist Gary Graff joins us in West Bloomfield!
This event is free to attend. However it helps us in planning to receive your RSVP. Please register here so we know you plan to join us: https://schulerbooks-garygraff.eventbrite.com
About the Book:
In this exquisitely produced book, experience the extraordinary life and career of the original "shock rocker" through 75 key releases and events.
Pythons, guillotines, stage blood…Alice Cooper is widely considered the godfather of shock rock thanks to his inventive concoction of vaudeville, horror film conceits, and three-chord rock 'n' roll. In Alice Cooper at 75, veteran rock journalist Gary Graff shows you this rock icon through the lens of 75 career accomplishments, events, and partnerships. This exquisite volume features:

-Slipcased hardcover format
-Stunning concert and candid offstage photography
-Images of memorabilia, including gig posters, vinyl record sleeves, ticket stubs, period adds, and more
-Gatefold Alice Cooper timeline
-Unpublished 8×10-inch photo
-Two pullout posters
Through seven-and-a-half decades, Graff covers it all:

-Cooper's childhood in Detroit and Arizona and early garage bands the Earwigs and the Spiders
-All 28 studio albums, including those as front person of Alice Cooper the band
-A selection of his greatest singles, like the classic-rock standards "I'm Eighteen," "School's Out," and "Welcome to My Nightmare"
-Collaborations with artists including Slash, Dave Grohl, Johnny Depp, Wayne Kramer, and more
-Associations with notable guitarists, including Glen Buxton, Nita Strauss, Orianthi, and others
-Nonmusical passions like classic cars and, of course, golf
-His relationship with wife and entertainment accomplice Sheryl
-Tireless charity work
Beginning with his1969 debut LP Pretties for You and continuing through his latest release, Rock and Roll Hall of Famer Alice Cooper is regarded as one of the most influential performers and musicians in hard rock and heavy metal, influencing countless acts both visually and musically. This book is your unprecedented retrospective of Cooper's career from teenage garage rocker to international star and celebrity.
The result is a unique and lavishly produced celebration of the iconic and beloved rock star.
About the Author:
Gary Graff is an award-winning music journalist based in Detroit. He is a regular contributor to the Billboard, the Cleveland Plain Dealer, Media News Group, Ultimate Classic Rock, Consequence, and other publications, as well as to radio stations in Detroit and Milwaukee. He is the co-author of Neil Young: Long May You Run, Rock 'n' roll Myths: The True Stories Behind the Most Famous Legends, and Travelin' Man: On the Road and Behind the Scenes with Bob Seger, editor of The Ties That Bind: Bruce Springsteen A to E to Z, and the series editor of the MusicHound Essential Album Guides. He is also co-founder and co-producer of the Emmy Award-winning Detroit Music Awards. Graff lives in Beverly Hills, Michigan.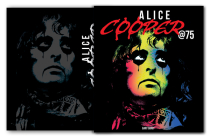 $75.00

ISBN: 9780760378274
Availability: On Our Shelves Now. Click on title for location specific availability.
Published: Motorbooks - January 31st, 2023
---